Jedox 2021.1 Release Notes
Jedox 2021.1: the best Jedox version ever!
This document gives an overview of the new features, enhancements, and fixes in Jedox, which is currently available at https://www.jedox.com/en/epm-software/free-trial/. We are committed to keeping newer versions compatible with previous versions, especially solutions built with previous versions. Any changes in the software that would require a change in a solution built with the software will be announced during the ramp-up phase before the change goes into effect.
Some Jedox features are released IN PREVIEW. These features have undergone testing and passed quality thresholds, but they should not be used in production until they have reached "generally available" (GA) status. For features in preview, we are targeting a maximum of two releases for maturation, i.e., it will take a maximum of two releases until they become GA. Our intention is to get your feedback on these features before making them GA and production-ready. These in-preview features may undergo minor design changes while going through the maturation process. Most in-preview features can be enabled in Jedox Web Administration. For more information, see In-Preview Features.
Jedox features with the heading ATTN include changes that may impact settings in your current installation, including deprecations. Always back up your databases and other customized content before upgrading.
Contents
Jedox Web
IN PREVIEW: Canvas
Jedox 2021.1 introduces Jedox Canvas, the biggest change to Jedox visualization and reporting ever. The new Canvas report type allows users to compose flexible, responsive, and fast visualizations consisting of existing Jedox objects, such as reports, worksheets, and views. These objects can be dragged and dropped onto the canvas, which is flexible enough to resolve to any screen resolution or size. (46750)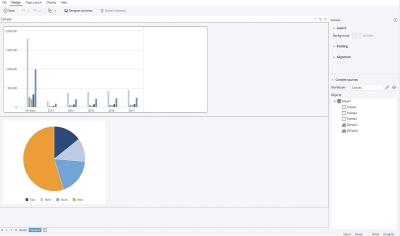 This feature is in preview and can be enabled in Jedox Web Settings under Features Rollout.
All feature flags now exposed in Settings
Jedox 2020.4 introduced feature-specific flags, deprecating the general "features.rollout.preview" flag. In Jedox 2021.1, all new feature flags appear automatically in the platform, allowing the Jedox administrator to easily turn specific features on or off without manually entering a new key. (48084)
Last-used database retained across Jedox Web components
Jedox Web now remembers the last selected database and will automatically show that database when other dialogs are opened, such as Paste View, Paste Elements, and most other dialogs that access the database. (40570)
List Blocks can be rearranged by drag-and-drop
Lists are a powerful way of organizing data in Jedox Views. In 2021.1, when editing a List, you can now easily rearrange blocks by dragging and dropping them. Lists now also provide visual cues to ensure that you drop the block into the intended position. (46580)
Logout warning for Rule Editor and Scheduler
Users now receive a warning prompt if they try to log out of the Rule Editor or Scheduler with unsaved changes. (23719)
Improvements to SVS Script Editor
The Supervision Server editor has been enhanced to improve usability. (46437)
Buttons "Save" and "Save all" appear in the dialog toolbar
Buttons are only active if changes have been made to the opened script(s)
Blue icon on the tab indicates that the script in tab has changes
Restart SVS button has been moved
Decimal places in Cell Tracer extended to 10
In complex models, it is sometimes very useful to examine ratios, drivers, and inputs at an extended decimal level. Until now, Jedox Cell Tracer would only show values up to 2 decimal places. From 2021.1, it will show up to 10 decimal places. (48161)
IN PREVIEW: Elements grid in Modeler optimized for large dimensions
Performance of large, highly nested dimensions in Modeler has been optimized with this in-preview feature. Once turned on (with feature key Modeler optimization), large dimensions expand much more quickly. (41242)
GA: Request Profiler
The Request Profiler (in preview since Jedox 2018.4) is now generally available. This feature shows the details of specific value-calculation requests in the Jedox In-Memory DB. (48083)
The Request Profiler UI has two modes: Tree and Chart. Tree mode is GA with this release; Chart mode remains in preview and can be enabled with feature flag features.rollout.profiler_graph.
Default save path for OLAP backup now configurable
There is a new setting key (scheduler.default_save_path) in the Settings Manager for specifying a server-side folder for backups. Note that a local directory folder is not a valid option. (48209)
More precise error messages for backend issues
When the backend is unavailable, the error messages at the login screen now indicate which component is causing the problem. (48017)
ATTN: HTML not allowed in Administration / Daily message
HTML will no longer work in the Daily Message input field. If used, it will appear as plain text on the login page. (47905)
Improvements for initial load of Jedox Web
In Jedox Cloud environments, the initial load of Jedox Web in the browser has been optimized to allow for better performance, through improved caching and file compression. (47972)
IN PREVIEW: PHP 7 in PHP Macro Engine
The PHP Macro Engine in Jedox Spreadsheet Server can now optionally use PHP version 7. Note that usage of the PHP 5 engine is being deprecated and will be removed in a future version. (41377)
GET switched to POST in Web / Excel communication
The transfer of parameters in Excel communication has been switched from GET to POST. This change eliminates the need to manage secret / token proliferation, resulting in easier deployment of Excel Add-in for Jedox Cloud customers. (41114)
Excel Add-in
IN PREVIEW: Paste Elements as embed dialog
The Paste Elements dialog is now available as a Web dialog, with the same set of features available in Jedox Web. To use this feature, "Enable Preview Features" and "Use Web dialogs" must be set in the Excel Add-in Options dialog. (37788)
PALO.EL optimized for performance
In previous versions of Jedox, using many PALO.EL formulas in a worksheet could slow down performance in Excel. In 2021.1, the performance of these formulas has been optimized to return results faster. (47419)
In-Memory DB (OLAP)
New option to enforce authentication in SAML environments
There is a new palo.ini option to enforce authentication even when there is an existing IdP session from another security context. By default, OLAP behaves as in previous versions, allowing reuse of IdP sessions from another security context. (47861)
Improved error handling for low disk space in OLAP
In on-prem / legacy setup scenarios, the system can run low on disk space, which can cause problems when Jedox has to write data to the disk. In 2021.1, the transparency of this type of scenario has been improved by adding information on available disk space in various log messages. (47849)
Support for service mesh
HTTP request headers can now be propagated between components, enabling better observability via a service mesh. (42512, 47899, 47901)
OLAP log messages now more efficient
Jedox logs have been improved to be more readable, less verbose, and more efficient, making it easier to find specific errors in the logs. Logs now also include more specific information, including startup disk size, archive size, and in-memory estimation. (47892, 47894, 47897)
ATTN: breaking change for startup of OLAP server
There is a change in behavior of the In-Memory DB (OLAP) during startup if the "System" database is damaged or missing.
If the System database is missing, the server will by default print an error message in the log and abort startup. The server will start only if a specific new key is defined in palo.ini, and a new System database will be generated with default users, groups, roles, and passwords.
If the System database exists, but is damaged and cannot be loaded, the server will abort startup in all cases. The System database then either has to be manually restored from a backup or removed; if removed, when setting the new configuration key defined above, the server will generate the default System database. (47460)
OLAP connection timeout behavior has been optimized
The behavior of the "network_timeout" setting for OLAP clients has changed. In previous Jedox versions, all running client requests were interrupted after the timeout limit was exceeded. As of 21.1, only the attempt to establish the network connection to the server will be interrupted in case of timeout. If the server connection is established in time, the ensuing requests will proceed for the full duration required.
This behavior also applies to the "Connection timeout" option in the Excel Add-in Options dialog. (48080)
System internal naming for Lists changed
If an internal system dimension #_LIST_ exists and was originally created as a part of the Lists feature, then it will be automatically renamed #_LIST_## to avoid potential future naming conflicts with a user-created "List" dimension. (48164)
Integrator
Tracepoints for Groovy Jobs now supported
Tracepoints, introduced in Jedox 2020.4, can now be used in Groovy jobs, offering a more flexible use of Tracepoints for troubleshooting complex Groovy programming logic. (47769)
Timeout for Salesforce connection
The Jedox Salesforce Connector now has a configurable timeout setting, which prevents Salesforce connections from hanging in long processes. (47981)
Preemptive authentication for REST connection
The Integrator REST connection has been extended to support authentication in a "preemptive" manner, meaning that the client sends authentication information when initially establishing the connection, without getting challenged for it. This feature is especially useful for using S/4 Hana web services to provide S/4Hana CDS views. (47334)
Improved view in Data Preview
Data Preview now scales table columns and width to improve readability. (47500)
GA: Integrator Server now offers REST-based web service API
Announced in preview with the 2020.4 release, the REST-based API is now generally available. This REST-based API covers all back-end functionality of Jedox Integrator, such as project creation, data preview, job execution, and retrieval of execution monitor information. (46213)
ATTN: SOAP API to be deprecated
As Integrator now offers a superior option in its REST-based API (see entry above), the SOAP API will be deprecated as of Jedox 21.4, which will be released in December 2021. The SOAP API will no longer be available at that time. (46213)
ATTN: change to Jobs with empty variable values
There has been a change in the handling of Standard and Parallel jobs where a variable is set with an empty value. (48100)
From 2021.1 and on: the empty value of the variable is used in the execution.
From 2019.3-20.4: the empty value is ignored and the global default value of the variable is used.
ATTN: manual installation of Hive JDBC driver required
For Hive connections, the Hive JDBC driver must be manually installed. Jedox Cloud customers should contact Jedox Support for inclusion of the JDBC driver in their cloud instance. Jedox on-premises customers should contact Jedox Support to obtain the Hive JDBC driver. (48119)
Back-end changes to R-Script Transform for Cloud customers
To improve reliability and scalability, the processing of RScript transforms will be performed in a separate service for Jedox Cloud and Jedox Private Cloud customers. The migration will occur starting with the 2021.1 release and will require no adaptations to Integrator projects. There will be no changes in the behavior or results of RScript transforms. (47081)
If external R packages are used in RScript transforms, contact Jedox Support.
IN PREVIEW: back-end changes to PostgresSQL in Drillthrough for Cloud customers
In Cube loads with "Persisted" mode activated in Drillthrough, the internal storage in the H2 database required for the procedure will move to a dedicated PostgresSQL service to improve reliability, performance, and scalability. The migration will occur starting with 2021.1 for select Jedox Cloud customers. If the default relational connection has been used in the cube load, then no adaptations will be required in Integrator projects. (43193)
Technical Health
In Jedox Version 2021.1, the following components were updated:
| | |
| --- | --- |
| Component | Version |
| Apache HTTPD | 2.4.46 |
| Apache Tomcat | 9.0.43.0 |
| PHP Apache | 7.3.27.0 |
| PHP SVS | 7.3.24.0 |
| PHP SSS | 5.6.39 / 7.3.24 |
Tasks implemented since release 2020.4
The following issues (features, tweaks, and bugs) reported in Jedox 2020.4 have been fixed / implemented in Jedox 2021.1. The development team thanks those customers and partners who have reported issues.
| | |
| --- | --- |
| Component | Tickets |
| OLAP Server | 72 |
| SVS | 1 |
| Excel Add-in | 30 |
| Office Add-in | 0 |
| Client Libs | 13 |
| Integrator Server | 70 |
| Scheduler | 0 |
| Jedox Web | 248 |
| Demo content | 4 |
| Documentation | 85 |
| Setup/CI/CD | 60 |
| Jedox Mobile | 11 |
| Jedox Cloud | 33 |
| Models | 48 |
| QA | 85 |
| TOTAL | 760 |
Updated November 24, 2021