Jedox Web Actions: Upload
Sometimes end users need to upload supporting documents alongside their planning numbers. The Upload action enables the report designer to configure an upload method for them.
The end user can upload documents by choosing a file or dragging and dropping it in the Upload pane.
To set up the Upload action, first select a form element. You can use button, checkbox, list box, Date Picker, or ComboBox for this action. As an example, a button is chosen here.
Choose the Upload action. Here, you can choose whether the sheet should be recalculated after the Upload action is executed; define the path to save the uploaded file; define the maximum allowed size of the uploaded file; and the file extensions that are allowed to be uploaded. You can optionally create the target folder on Upload if it does not already exist , and decide what should happen if a file with the same name already exists in the upload location.


The Target option enables you to save the uploaded file name in a range, named range, or variable. Optionally, you can turn on flags that allow multiple file names to be saved in a variable as an array.

Note: the Upload action is currently not supported on Jedox Mobile.
Upload Dialog
When you choose the Upload action in the Type of action menu, the new option "Dialog" shows up in the Format Control pane.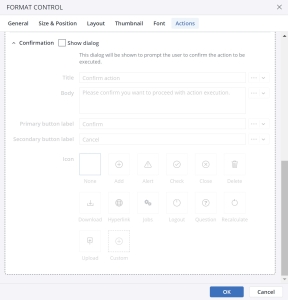 In the Dialog pane, you can customize a confirmation message for the end user.
You can add a Title, Body, Primary button label, Secondary button label, and an Icon to your customized message. The screenshot below shows a confirmation message:

Updated September 2, 2021