Jedox
Customer Portal
Through the Jedox Customer Portal, you can contact our team of experts who will respond to any query regarding our product. The Customer Portal is used for reporting incidents, concerns, requesting assistance, and other issues.
You access the Jedox Customer Portal via this link: https://my.jedox.com/. You will be prompted for your Customer Portal user name and password.
If you are a Jedox customer or partner and you do not yet have a user account, please send an email to support.login@jedox.com.
In this article:
Creating a new ticket
Click on the orange Create New Ticket button to open a ticket. You will be prompted to fill out a form, as shown below. Fields marked with an asterisk are required.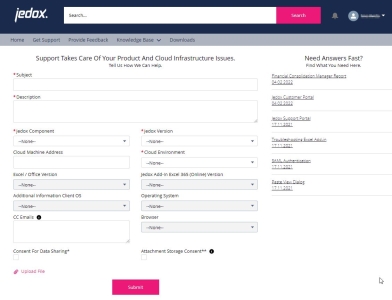 Please describe your issue as comprehensively as possible. You can also attach files, e.g. screenshots, log files, or reports.
On the right side of the window are suggested Knowledge Base articles, based on the given subject or description.
Click the Submit button to submit your request. After the ticket is successfully submitted, you will receive an automated e-mail with the assigned Jedox ticket number.
To view the ticket, click on the case number link in the Ticket Information window, available from the Tickets menu, indicated below.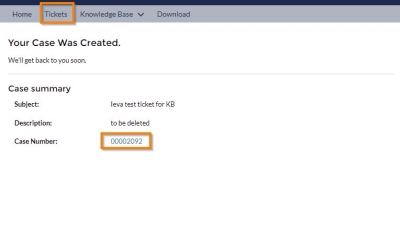 Tracking your tickets
Click a ticket on your list in the My Tickets section to see all the previous actions regarding a ticket, as well as to contact the support team on the case. Options include:
Viewing all incoming / outgoing emails
Sending new emails to the support team
Viewing and posting comments regarding the ticket
Creating new escalation requests or accessing existing escalation requests
Viewing your tickets
The Tickets menu item offers you an overview of your company's tickets. You can check details such as current status or age of ticket. Tickets can be searched, sorted, and filtered. You can use various filters for the search, as well as wildcards, such as an asterisk. For similar searches done on a regular basis, we recommend creating a template.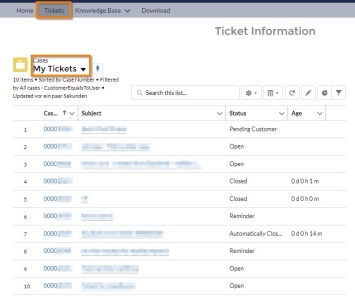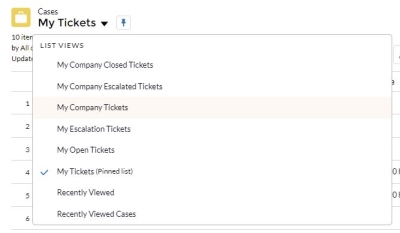 Downloading software and patches
The Download menu contains Jedox software and patches. You will also find helpful links for further information to help you get the most out of your Jedox software and to optimize your support experience.
Ideas Portal
Got an idea for improving Jedox software? Share it with us through the Ideas Portal, available from the Download menu. You can also comment and vote on ideas shared by other Jedox users. These ideas are taken into consideration by the Jedox Product Management team and help us understand how to make Jedox even better.
Settings
You can save your personal settings (such as language) or change your password under My Profile > My Account > My Settings.
The bell icon at the top-right corner of the Portal's screen shows new notifications for you. On "My Settings" you can also opt for receiving notifications by email.
Note on data protection
For support purposes, personal data should not be submitted unless absolutely necessary. Wherever possible, provide test data similar to production data and / or a test environment. Jedox will never use any personal data provided unless we have consent. Please view our Trust page on how we treat and protect personal data.
Updated February 17, 2022